South Lake Tahoe is a city in El Dorado County, California. It is a beautiful vacation destination famous for laid back atmosphere and offers a peaceful mountain vibe that numerous tourists enjoy every year. It provides a bit different feel than North Lake, which shuts down much earlier, and the nightlife is way more lively. That being said, we are going to take a look at some of the best restaurants South Lake Tahoe has to offer.
When you spend days taking all the advantages that the mountains and beaches of this lovely city offer, you want to lay back and relax with friends or family in a restaurant that provides quality service and food. Luckily, plenty of locations offer you just that, and you can enjoy both international and American dishes if you know where to look. So, without further redo, let us explore the options you have.
1. Evan's American Gourmet Cafe
Founded back in 1988, this fine establishment specializes in serving New American dishes and does this in a very professional manner. It is an award-winning restaurant with a beautiful backdrop of towering palm trees that offers amazing scenery.
The food is amazing, and the service is on a very high level. One of the things that you should definitely try is the Sauteed Veal Sweetbreads, which is a fantastic appetizer. Carry on with the roast venison loin chop that comes with exotic mushrooms and tasty sauce.
2. Cafe Fiore
This is another award-winning restaurant specializing in traditional Italian meals, and it is among the best dinner places in the city. The atmosphere is cozy, the service is great, and the menu offers a wide variety of Italian dishes that are well-presented and hand-crafted by amazing chefs. There is also an extensive wine list you can enjoy with your meal.
If you are a pasta lover, Spaghetti con Salsiccia is a dish that you absolutely have to try. Some of the ingredients are spinach, prosciutto, sausages, tomatoes, garlic, and olive oil. In case you prefer seafood, Aragosta Melodia might be one of the best choices on the menu for you.
3. Artemis Lakefront Cafe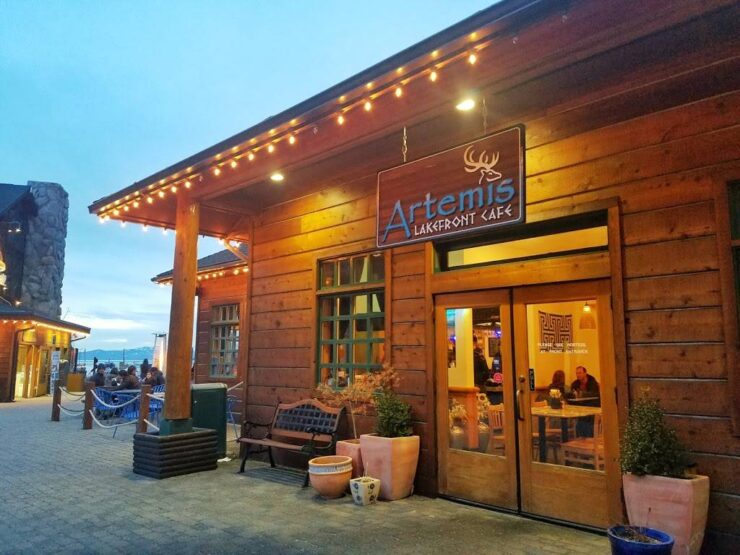 Artemis Lakefront Cafe is a cool restaurant that offers a wide variety of Mediterranean dishes. It is both eatery and espresso bar that provides indoor and outdoor seatings near Lake Tahoe. The restaurant offers some of the Greek most popular dishes such as gyros, steak with feta, and various pita wraps.
There are also some interesting combinations of traditional American dishes with a Greek twist and vice versa. One of the signature meals you can taste in this establishment is stuffed chicken breasts. There are also specialty cocktails and a wide range of beers and wines.
4. Cold Water Brewery and Broil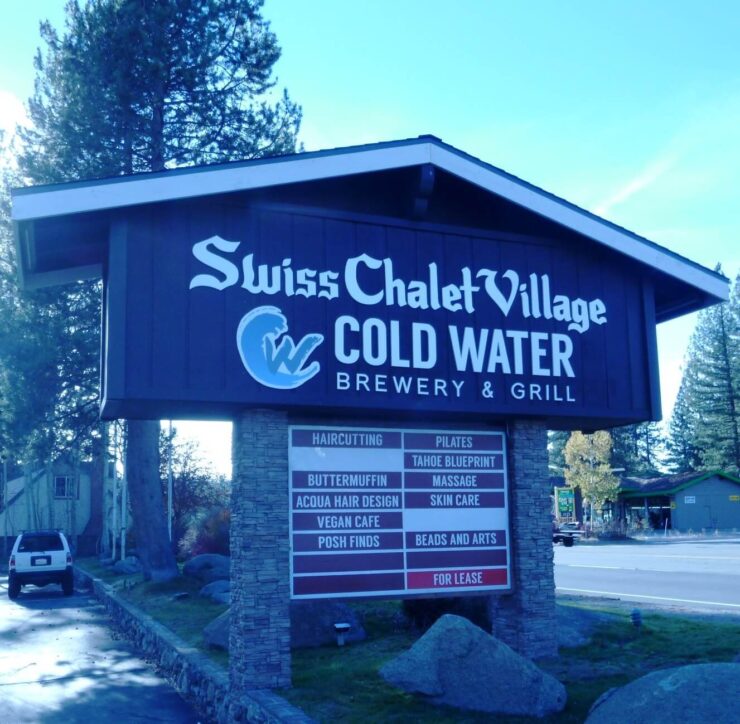 You can taste some of the tastiest Californian breakfasts, lunches, and dinners in this restaurant's cozy and friendly atmosphere. This establishment also has its own brewery that produces an all-grain beer with which you can wash down various burritos, rib racks, and burgers.
One of the tastiest local combinations is a Black Pepper Porter beer with Bavarian pretzels. The homemade bear is also available for takeout during the peak of the season, and the best time to visit the restaurant is after 1 pm, although generally, you will not have a problem finding a table.
5. The Getaway Cafe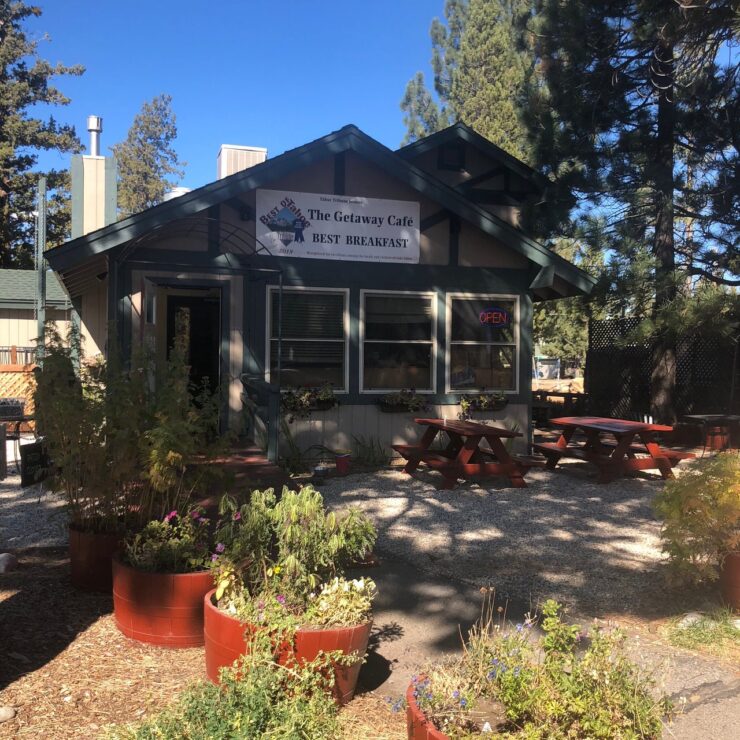 If you are looking for the best place to eat breakfast or brunch in South Lake Tahoe, The Getaway Cafe is a place to go. The atmosphere is relaxed both indoor and outdoor, and the servers are very friendly. A cottage-style setting and a wide variety of meal choices make this restaurant a great dining option for the whole family.
Order the Pastrami Reuben for brunch if you prefer something savory. On the other hand, if you enjoy a sweet breakfast, you can go for Coconut-Crusted French Toast. It comes with homemade coconut cream sauce and bananas.
6. Flatstick Pub
This family-owned restaurant is located near multiple shopping areas, hotels, and entertainment centers. The restaurant serves various meals and snacks, while the service is friendly. The vibe and atmosphere are very cozy and relaxed.
If you want to sample some snacks, our advice is to try the Flatstick Nachos, which come with various toppings such as cotija cheese, guacamole, jalapenos, sour cream, and many more. If you prefer vegetarian dishes, try out the Wedge, which is a vegetarian pizza with bell peppers, mozzarella, sausages, artichoke hearts, red onions, pepperoni, and olives.
7. Base Camp Pizza Co.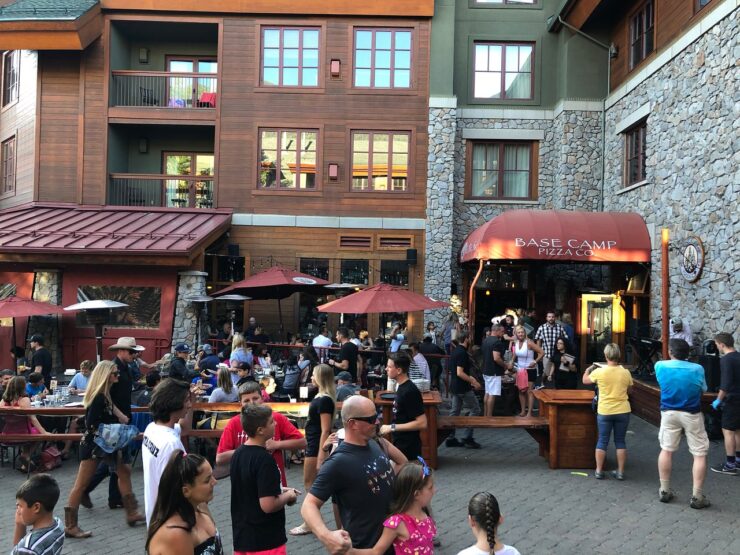 The Base Camp Pizza Co. is famous among locals for its delicious gourmet pizzas. They also offer various appetizers and salads like garlic cheese bread and Caesar salad. The patio is pretty spacious and is an excellent place to eat your lunch on sunny afternoons.
The restaurant also hosts entertaining events with live bands every evening, and every day between 2 pm and 6 pm, there is a happy hour on spirits such as Jack Daniels and Sailor Jerry. The restaurant is open all day long; however, you should ring ahead if you want to grab a table for dinner.
8. Himmel Haus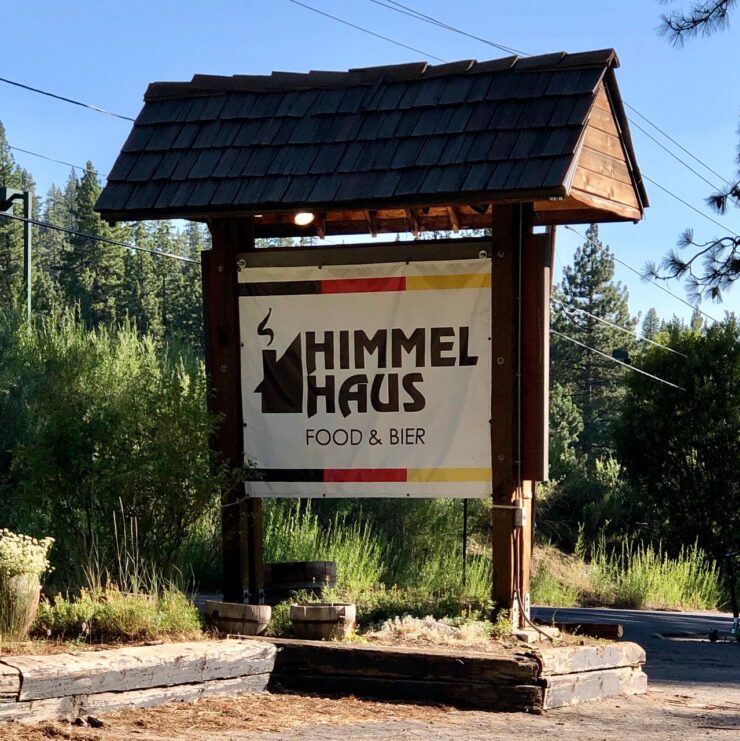 The Himmel Haus is a restaurant famous for its Bavarian-inspired dishes. Locals love this place for its amazing menu, service, and cozy atmosphere. The restaurant serves over 30 imported Belgian and German beers, and if you want to have a guilt-free bite, there is a wide variety of organic meals on the menu.
Some of the most popular things from the menu are pretzels, sausage platters, schnitzels. However, if you want to try out something different that is absolutely delicious, go for Sauberbraten. It is beef marinated in red wine for at least seven days. The restaurant gets crowded later in the evening, so if you want to avoid it, you should visit before 6 pm.
9. Heidi's Pancake House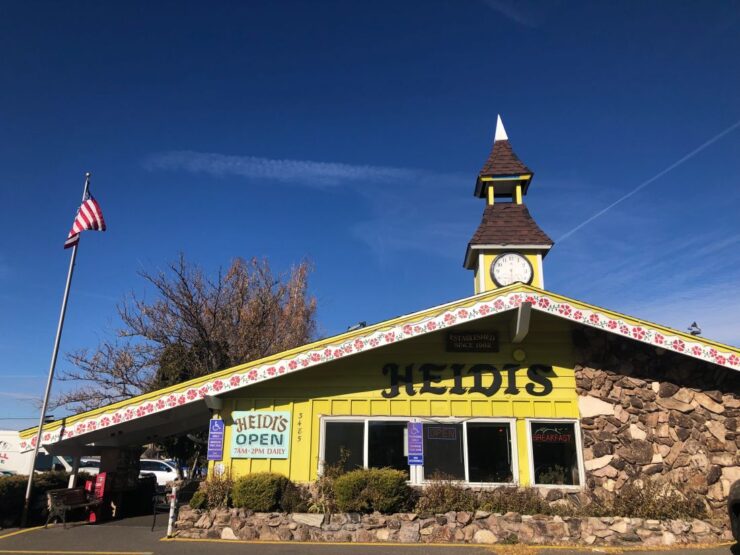 This restaurant is among the most popular places to go for breakfast in South Lake. The breakfast menu is the main selling point of this establishment, although you can also order Californian favorites like classic sandwiches and oversized burgers.
The breakfast menu has stacked pancakes, baked waffles, crepes, and 4-egg omelets. Many customers also praised locally-made sausages. In case you want to try something healthier, a sliced hame sandwich made of fat-free smoked ham is highly recommended.
10. The Loft Theatre-Lounge-Dining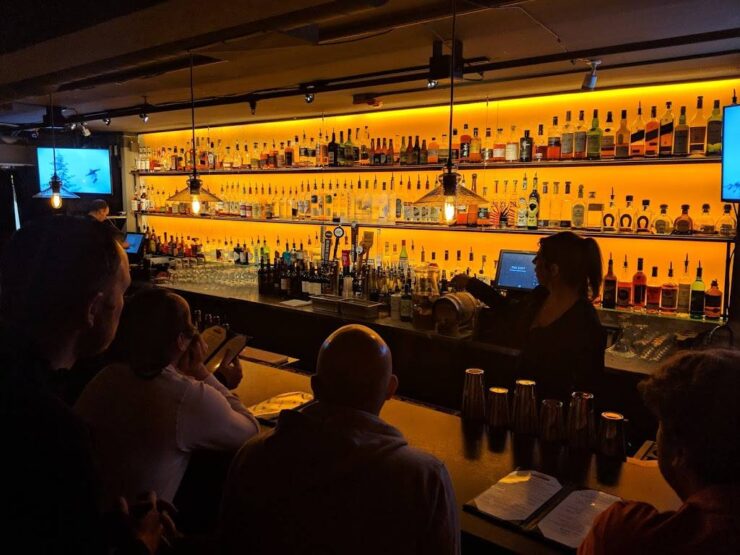 The Loft Theatre-Lounge-Dining adds an interesting twist to the way you can dine. The restaurant hosts a live magic performance every day during the week. The tickets for these shows get sold out very fast, so it is recommended to book a table in advance.
As far as the menu goes, you can find tapas-style dishes such as cold cuts, buffalo wings, and mini lamb chops. The most popular choice among the locals is delicious charbroiled steak. If you would rather just dine without the magic act, there is a lounge bar that grants a more comfortable atmosphere.
11. Sonney's BBQ Shack Bar & Broil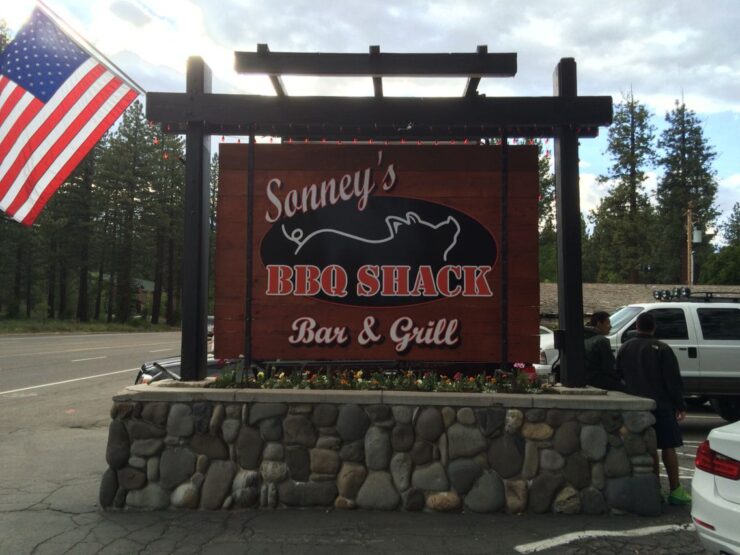 The Sonney's BBQ Shack Bar & Broil is a multi-reward-winning restaurant that serves barbeque meats, slow barbequed over oak and apple, and is typically covered with several signature sauces. On weekends you can enjoy performances of some of the live bands if you are looking for something more than just a meal.
One of the signature meals that locals adore is ribs smothered in Sonney's Original BBQ Sauce. All food is fresh, and the restaurant has a strict zero microwave or freezer policy. The restaurant gets busy around 6 pm, although generally, waits are very rare.
12. Scusa Italian Ristorante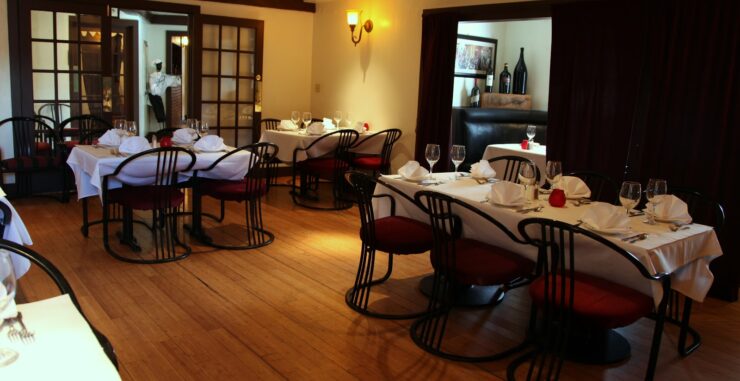 This restaurant is famous in South Lake Tahoe for its Italian-style dishes. It is a well-lit place with simplistic decor, a broad wine selection, and a warm and inviting atmosphere. There is also a heated patio where you can dine if you prefer an outdoor setting.
The best way to start your meal in this establishment is by ordering Burrata. It is a delicious appetizer consisting of a creamy ricotta center, balsamic glaze, mozzarella, tomato-basil compote, and candied garlic. If you prefer some seafood, you should try Sea Scallops Mediterranean.
13. Edgewood Restaurant
This restaurant is a fine-dining eatery located in a luxurious Edgewood Tahoe Hotel. It is one of the best restaurants in the area, offering a broad menu with delicious dishes. The establishment has aesthetically pleasing decor, comfortable seats, and a stunning view of Lake Tahoe.
If you love red meat, one of the best entries on the menu is the Porcini Dusted Veal Chop. On the other hand, if you have gluten sensitivities, you should opt for delicious Pan Seared Branzino. It consists of baby artichokes, young fennel, tomatoes, and tiny snap peas.
14. South of North Brewing Company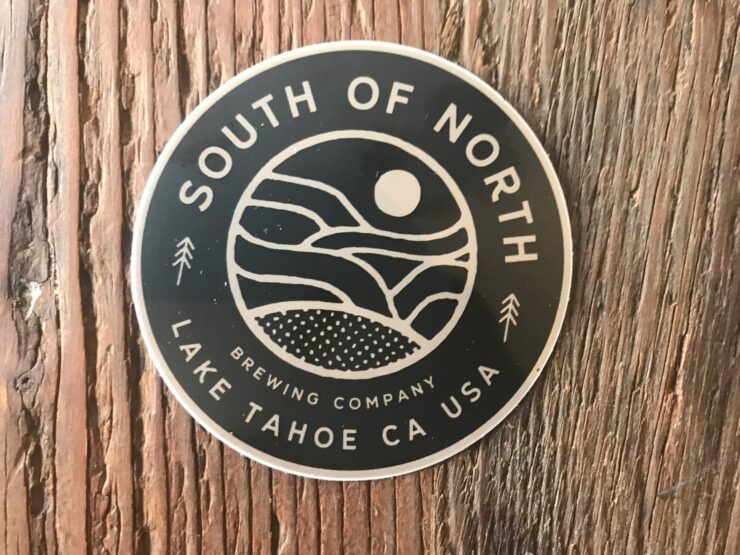 This brewery and restaurant is located near multiple luxurious and budget-friendly hotels. It is a great place to spend time with your family and friends while sipping beer and eating a scrumptious meal. You can also indulge in entertaining live music almost every day during the week.
The menu is very rich and if you want to pick a tasty and healthy meal, go for Harvest Grain Salad. In case you prefer a meaty meal, try the BBQ Beef Sando. This dish consists of Texas toast with mozzarella, and roast beef dipped in barbeque sauce and caramelized onion.
15. The Lake House Restaurant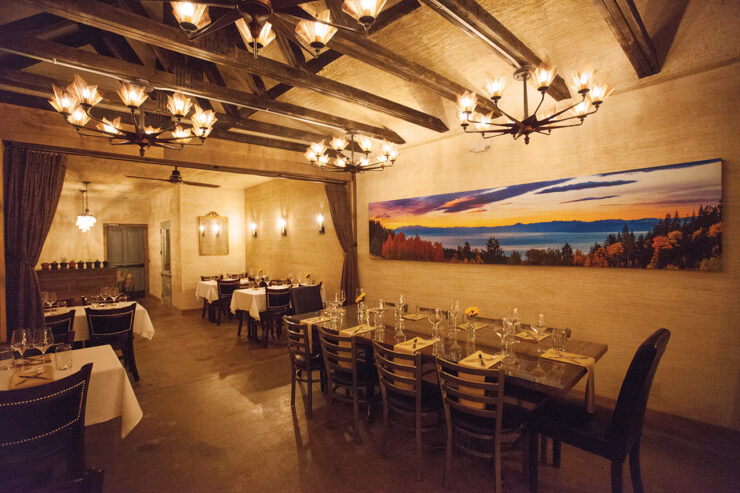 The Lake House Restaurant is a beloved establishment that specializes in New American-style dishes. The restaurant features a stylishly decorated interior with some eye-catching artwork. The menu offers a wide variety of wines, beers, and numerous tasty dishes.
Open up your dining session with Lobster Chowder. It is an elegant and delicious appetizing soup consisting of brandy, carrots, chives, celery, onions, potatoes, and bacon. For the main course, we recommend you order the Duck Two Ways. The ingredients are duck leg and pan-roasted breast, seasonal veggies, blueberry red wine, and mashed potatoes.
Final Words
These are only some of the amazing dining locations you can go to when visiting beautiful South Lake Tahoe. It is a city well-known for its tourism and hospitality of the locals. If you ever find yourself in this Californian gem, make sure to visit some of the restaurants we have listed, and we guarantee you will not be disappointed.