Lake Tahoe is the largest alpine lake in the United States, and it brings numerous tourists to its fold every year. Whether you are a skiing enthusiast or just want to relax with friends and family lakeside, you need a place to stay at least overnight. Since it is a popular tourist location, this California city is swamped with various resorts, and today we are going to discuss some of the best hotels in Lake Tahoe.
Most visitors love to base themselves in the center of the action in South Lake Tahoe, so before visiting, you should know your options as far as the hotels go. Some are reserved throughout the whole season, while some are unpopular hidden gems. There is a slew of excellent resorts with great accommodations and services; you just need to know where to look. So without delay, let us start.
1. The Landing Lake Tahoe Resort & Spa, South Lake Tahoe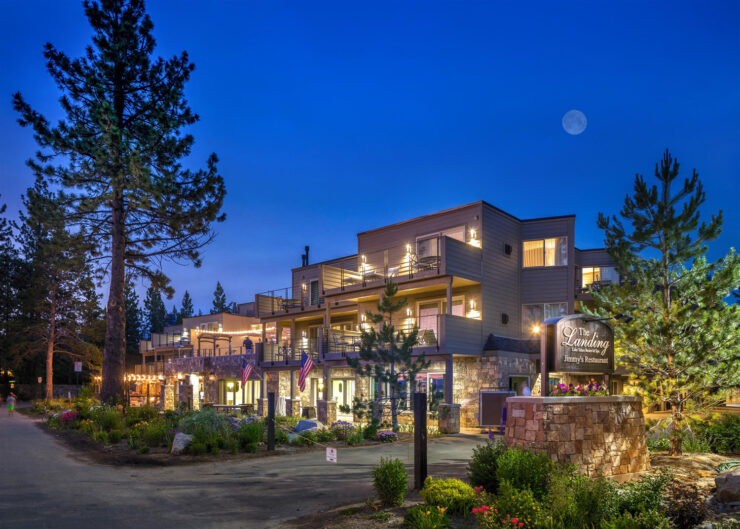 This luxurious resort is a fantastic place to stay during your vacation, regardless of when you are traveling. The property of the hotel has beach access and is very close to Heavenly Ski Resort. The Landing Lake Tahoe Resort & Spa won multiple awards for its amazing service and accommodations and is home to 82 rooms and suites.
The view from the rooms is absolutely stunning, and you can enjoy pampering treatments at the spa. You can dine at Jimmy's Restaurant, which provides a wide variety of delicious dishes for different tastes.
2. The Ritz-Carlton, Lake Tahoe, Truckee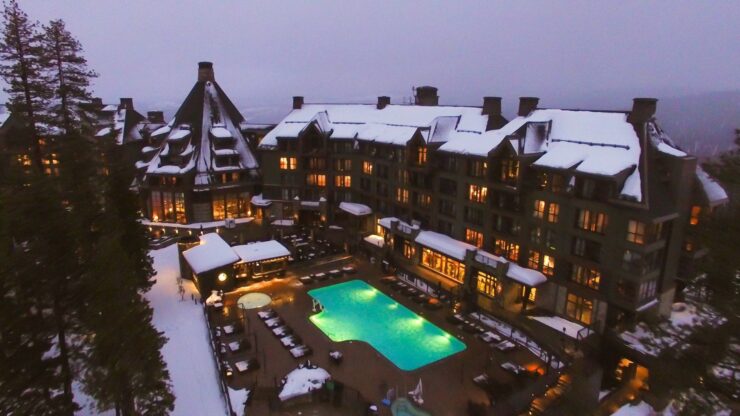 The Ritz-Carlton offers every five-star luxury you can think of. It is a spacious and elegant establishment that is famous worldwide for its amazing accommodations. Add impressive views to this hotel's attributes, and you get a jaw-dropping experience for your family and friends.
There is ski-in ski-out access to the Northstar California, which is pretty attractive for all skiing enthusiasts. The hotel boasts gondola access to a beautiful mountain village and its own Lake Club, which you can access for an extra fee. There is also an exceptional kids' program, so if you plan to go on vacation with the whole family, The Ritz-Carlton is an amazing choice.
3. Marriott Grand Residence Club, South Lake Tahoe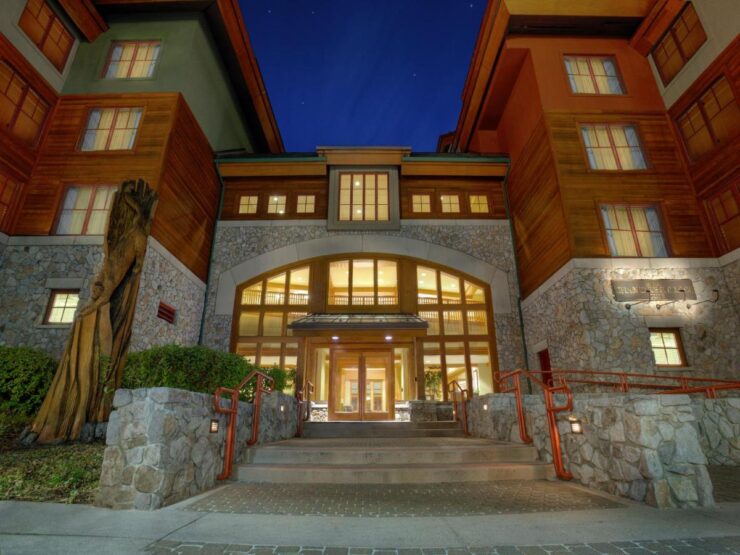 The Marriot Grand Residence Club is one of the most attractive hotels in South Lake Tahoe. This luxurious residence is a perfect pick for your vacation, especially if you want to be located in the heart of Heavenly Village. In addition, this hotel features many cool amenities, and it is within walking distance of some of the finest restaurants and bars in South Lake.
The accommodations are cozy and stylish, and the staff is friendly and helpful. If you plan to stay for an extended period, there are one to three-bedroom apartments boasting fireplaces, balconies, and kitchens that are much more suitable for a longer stay. On the hotel's grounds, you can find a heated pool, whirlpool hot tub, barbecue stations, on-site spa, and fully-equipped fitness center.
4. The Coachman Hotel, South Lake Tahoe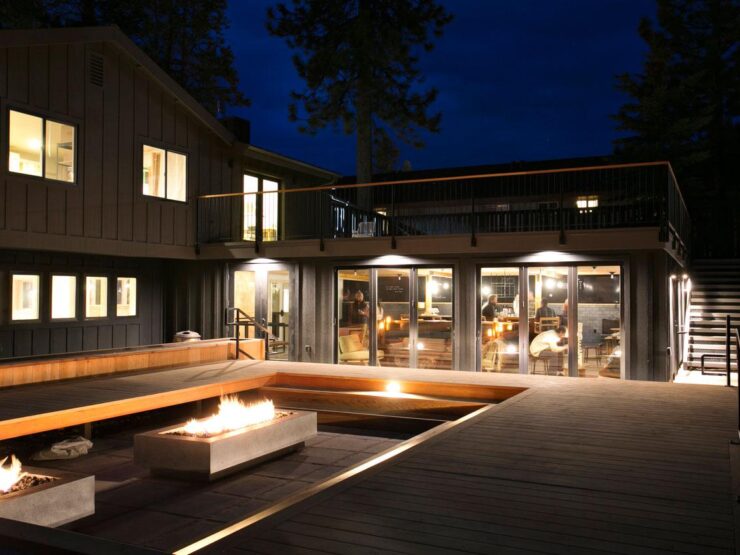 Located on the edge between California and Nevada Stateline, this hotel is perfectly positioned for both summer and winter activities. If you visit the hotel during summer, Lakeside Beach is located only 5 minutes walk away from you. On the other hand, if you are more of a winter vacation type and prefer some skiing, Heavenly is just 10 minutes away.
Once you get tired of exploring the outdoor beauties of Tahoe, you can enjoy in numerous comforts the hotel has to offer. There is a seasonal outdoor pool and hot tub on the hotel's grounds, and you can fill up on a delicious continental breakfast every morning. The staff is very friendly helpful and serves free espresso in the morning and wine and beer in the evenings.
5. Resort at Squaw Creek, Olympic Valley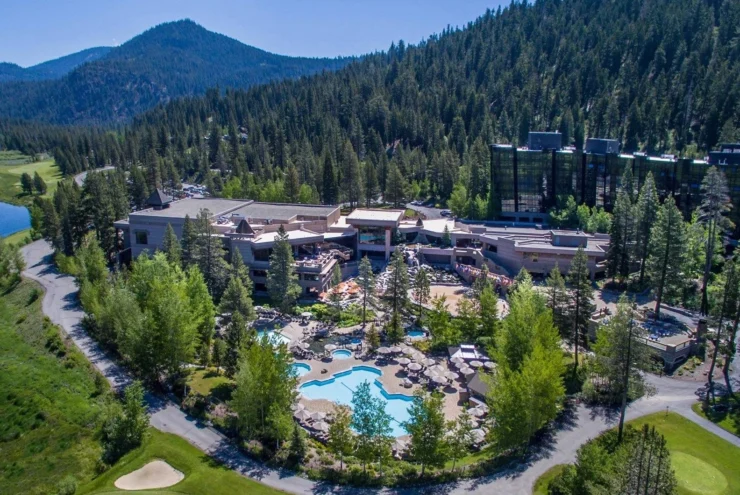 Located just a couple of minutes from North Lake Tahoe, the Resort at Squaw Creek is located in a setting so peaceful that it will relieve you from any stress. This Hyatt property will offer you everything that you need from vacation – caring and helpful staff, comfy beds, soft bathrobes, and amazing amenities.
If you decide to stroll down the hotel grounds, you can find a golf course, heated outdoor pools, waterslide, lawn games, waterslide, lawn games, a skating rink, a ski center, and a fly-fishing center. There are also bikes available on-site alongside kid's carts. The hotel is amazing for the whole family, and if you plan to relax and relieve yourself from any stress, it is a place you should definitely visit.
6. Edgewood Tahoe Resort, Stateline, NV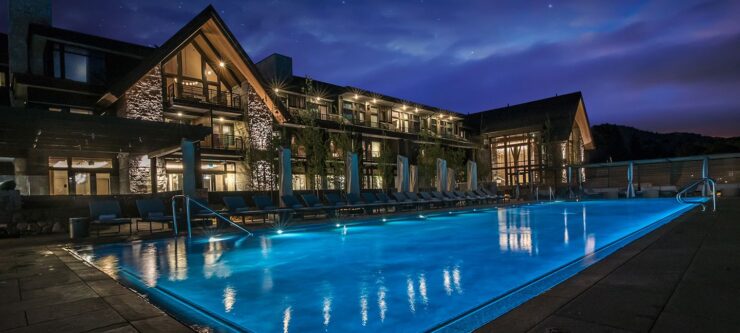 The Edgewood Tahoe Resort is one of the most luxurious boutique resorts in South Lake Tahoe, located on the Nevada side of the state. The hotel grants you access to a private beach, heated pool, hot tub, golf course, and spa. Depending on the time of the year you are visiting, the staff organizes excursions where you can go skiing, snowshoeing, or kayaking.
This eco-friendly resort features 154 luxurious but rustic rooms and suites equipped with fireplaces, cathedral ceilings, and numerous modern conveniences. Every room within the hotel has balconies or terraces with spectacular views of lakes and mountains. If you do not want to leave the resort, you can visit three bars and restaurants where you can taste some tasty dishes and drinks.
7. Hyatt Regency Lake Tahoe Resort, Spa & Casino, Incline Village, NV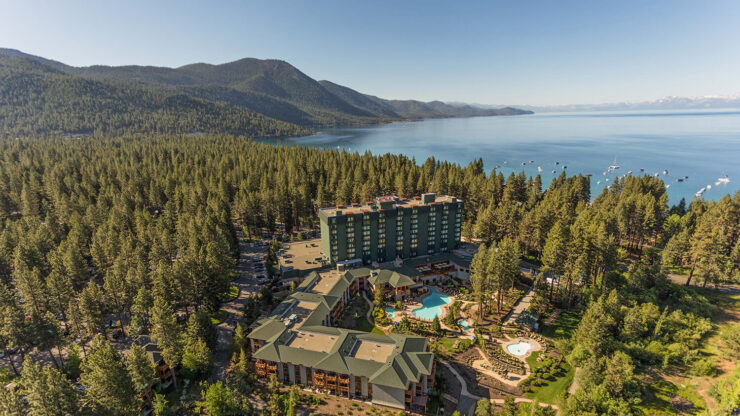 Located in Incline Village, this elegant outpost neighbors the Diamond Peak Ski Resort, which offers some very attractive outdoor options throughout the whole year. This resort boasts 422 rooms with 35 suites included that offer superb comfort and glamour. You can pick from a lake, mountain, or resort view.
It is a great place to go if you are traveling with kids since there are family rooms available. There are seven eateries with a resort, including a waterfront venue. If you love to take your pets on vacation, you are in luck since locales are pet-friendly. The grounds of this resort boast Stillwater Spa & Salon, a private beach, and a fitness center. If you are more of a winter person and enjoy winter activities, you can rent snowboards and skis.
8. Harveys Lake Tahoe, Stateline, NV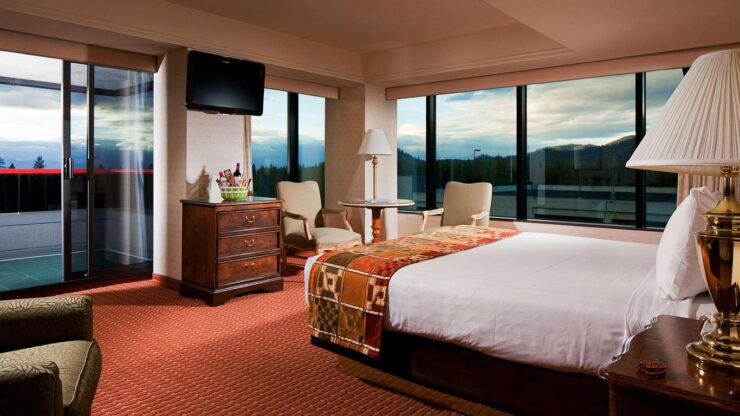 The Harveys Lake Tahoe is a hotel that offers so many options and activities that you will likely want to spend your entire vacation there. You can find standard accommodations such as a spa, outdoor pool, and fitness center. In addition, there are also Turkish baths, a game room, a steam room, and a sauna.
There are coffee shops on-site and four restaurants that serve unique dishes that will suit any type of food craving you might have. In case you do not want to leave your room, you can order room service. Although the rooms are a bit basic, they are still very clean offer comfy beds and everything that you require for a pleasant staying.
Final Words
Regardless of the activities that you plan to go for during your vacation; there are so many hotels around Lake Tahoe that you can surely find the one that will suit your needs best. There is something for every budget on our list, and all of these facilities can accommodate both winter and summer vacations.
We hope you enjoyed our article and that it will help you make an educated choice for your next holiday trip. Whether you want some peace and quiet atop the mountains or looking to be in the middle of the action around beaches, you will get great luxury and a chance to relax in these beautiful resorts.