The best beach South Lake Tahoe is difficult to single out because there are so many, and they draw crowds from all over the world each and every season. This alpine lake boasts over 70 miles of sandy shores; however, only 15 miles are open to the public and tourists.
That being said, there is plenty of space to enjoy numerous activities such as kayaking, snorkeling, or bathing. Moreover, you can do it all in crystal-clear water surrounded by beautiful parks that are free to enter. Many of these beaches are near renowned hotels and restaurants so that you can sit back and relax after an active day. In this article, we are going to explore some of the best beach options you have in South Lake Tahoe, so without further delay, let us get started.
1. Kiva Beach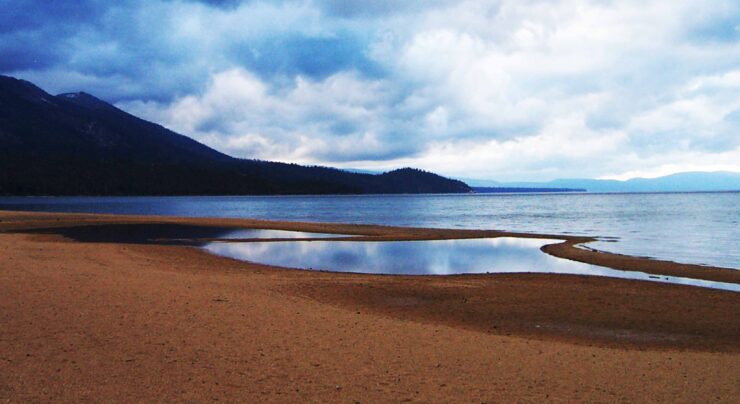 This pet-friendly beach offers a jaw-dropping view of Mount Tallac. It is typically very quiet and features around 600 feet shoreline to explore and work your tan. Kiva Beach is one of the rare beaches in South Tahoe that allows dogs.
It borders a protected marsh alongside numerous tree species that just add further to the beauty of this environment. These trees also provide lengthy shade where you can hide from the Sun during warm and scorching summer days. A trail to this beach is covered with informational panels about the area's vegetation and history.
2. Zephyr Cove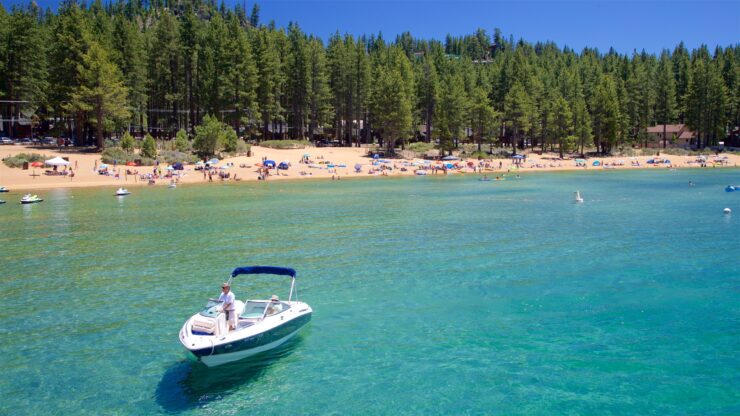 This beach is located in Lake Tahoe's southeast shore, and year in year out, it attracts families of tourists due to its range of recreational facilities. It is a mile-long beach with a marked bathing area, volleyball courts, picnic spots, umbrellas, and beach chairs.
The Zephyr Cove Marina grants its visitors opportunities for yachting, jet-skiing, parasailing, and wakeboarding, which are all great chances to explore South Lake Tahoe even further. There are more than enough accommodations around the beach, including cabins, guest rooms, RV camps, and a campground.
3. Bliss Beach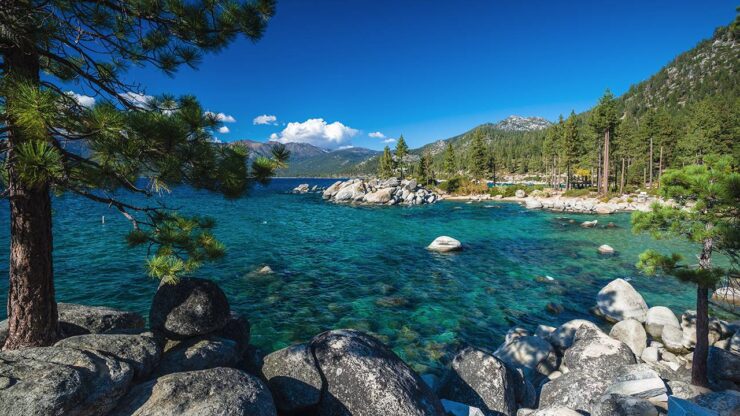 The Bliss Beach is located near the second most popular park in Tahoe, DL Bliss State Park. It consists of two parts – the north side, known as "Lester Beach," and the south side, known as "Calloway Cove." The whole park is open from sunrise to sunset, and it attracts numerous tourists every year.
The beach has a private cove that is great for kids to swim in, making it great for the whole family to visit. It also offers convenient access to other park attractions. Hikers can tackle trails to Rubicon Point Lighthouse or to the Balancing Rock. There is also an option to explore the lake using a kayak, canoe, or paddleboard.
4. Sugar Pine Point Beach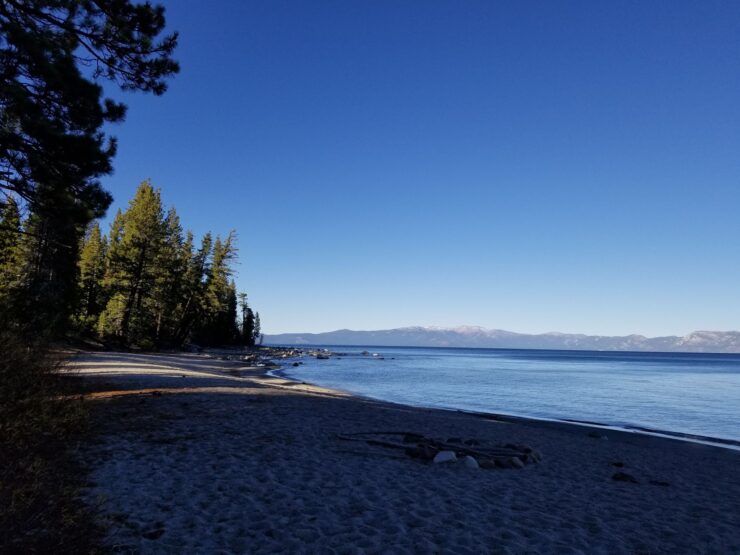 This beach stretches for a whopping 2 miles on Lake Tahoe's western shore, and it is part of Ed Z'berg Sugar Pine Point State Park in El Dorado County. The beach is mostly sandy, and it is divided by General Creek; however, both parts can be accessed without any issues using a boat.
The location that you must visit when near this beach is the Hellman-Ehrman Mansion, dating all the way back to 1903. It is also known as Pine Lodge, and the estate is open to the public only for tours in summer. There is also plenty of activity for hikers since they can tackle a waterside trail that leads to the state park's south boundary and beaches on Meeks Bay.
5. Baldwin Beach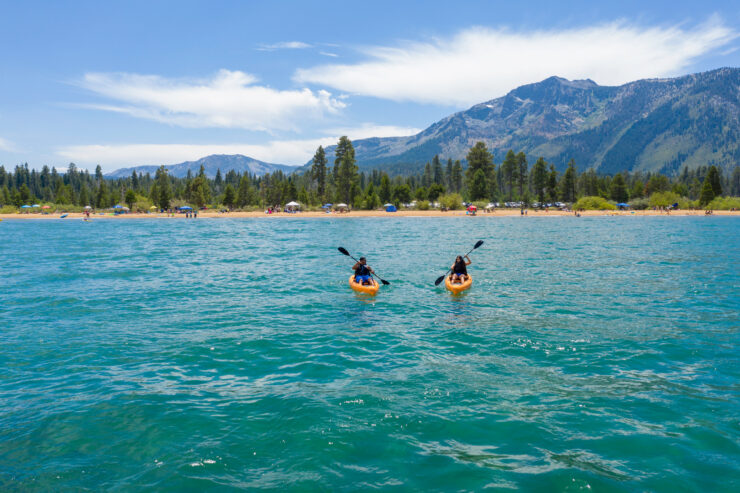 Baldwin Beach is an easy-to-access location for family vacations, and it is located in the southern end of South Lake Tahoe. The beach offers its visitors some truly amazing views and a long stretch of sand where you can lay down and rest from other activities.
Sadly there is almost no shade on this beach, so if you visit during summer, it is likely that you will not be able to escape from the heat. You can also find picnic tables alongside the beach and clean bathrooms near the parking lot. If you are the more adventurous type, you can rent kayaks for an affordable price and explore the lake further.
6. Pope Beach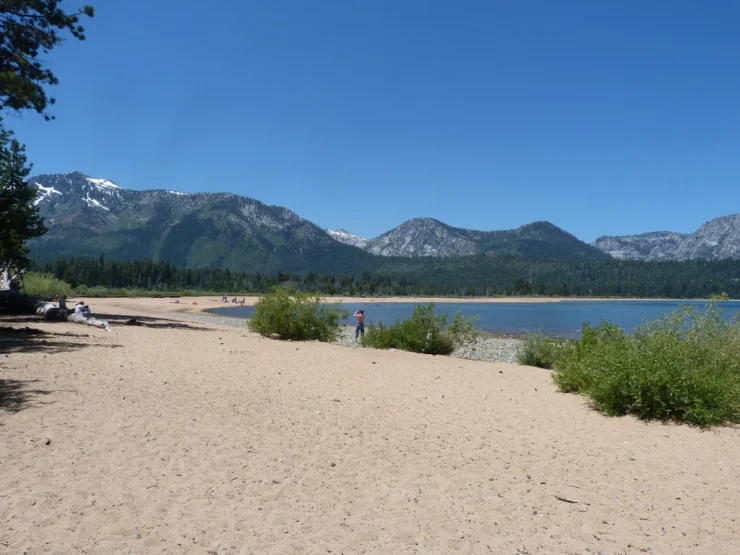 Located on the South Shore of Lake Tahoe, this beach is right at Camp Richardson, and it draws tourists throughout the whole year. Although there is a parking fee and no pets are allowed, the beach offers you various activity options you can go for while visiting.
The beach is suitable for picnics, paddle boarding, kayaking, fishing, and a wide variety of outdoor activities regarding watercraft. There are also numerous pine trees surrounding the beach, making a good shade, which is very convenient when visiting in warm summer months.
7. Timber Cove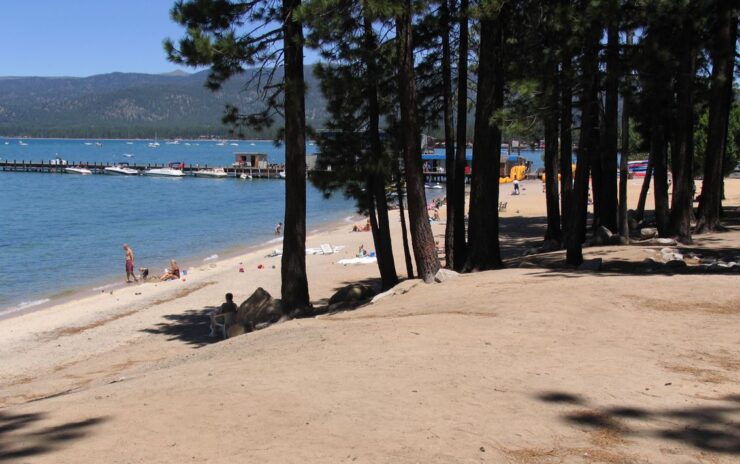 Also known as Conolly Beach, Timber Cove is located in the strict center of town and is a few minutes away from some of the most popular restaurants and hotels. It does look like a private beach due to its proximity to hotels, but it is a public beach that offers various recreational activities.
You can find a small pier near the beach alongside an excellent restaurant, Blue Water Bistro, where you can taste some delicious dishes. There is also an option to rent some water equipment on the beach if you are more adventuristic type.
8. Vikingsholm Beach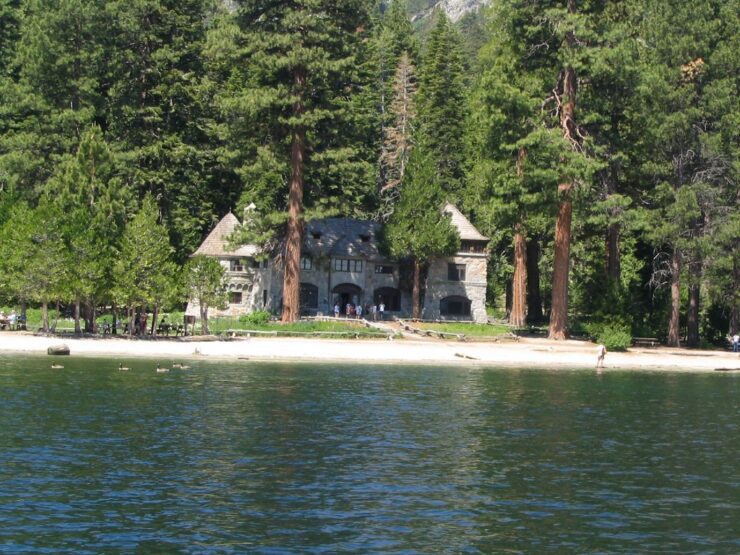 Vikingsholm beach is located in the Emerald Bay State Park, right in front of the Vikingsholm Castle, which is an exceptional example of Scandinavian architecture and opened for public and guided tours during the summer months. The beach is perfect for boating and swimming and hosts numerous visitors every year.
You can also rent kayaks and paddleboards for even more convenience, which you can easily launch from the beach due to ramps. The beach is also rich in public facilities, restaurants, and picnic tables where you can sit back and relax. If you are up for a swim, the beach also has an area entirely reserved for swimming.
When Is the Best Time to Visit Beaches in South Lake Tahoe?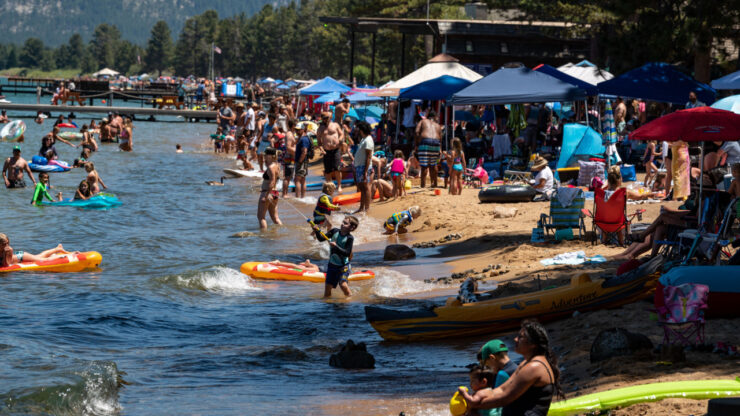 Since South Lake Tahoe attracts both summer and winter tourists alike, you can enjoy the beauties of this city throughout the whole year. The beaches look lovely year-round, even in winter. Although Lake Tahoe is a location that tourists generally pick for skiing, the beaches look absolutely stunning in both spring and summer.
In case you want to dive into the lake for a swim, the best period to visit beaches is during summer, preferably July or August, when the weather is much warmer. The water is really cold and does not get warmer than 68F, and the air temperature gets around 80F, so be warned since this type of swimming might not be for everyone's taste.
Final Words
Lake Tahoe is an amazing place to visit, relax, and boost your energy levels. There are many beaches with a wide offer of recreational activities which you should not miss whenever you decide to visit.
We hope our article was informative and that it will pique your interest and make you visit South Lake Tahoe if you did not do so before. Since it offers beautiful accommodations and places to see and enjoy, we highly recommend that you take a bit of time and visit this beautiful California gem.